Finn's World by Finn Ní Fhaoláin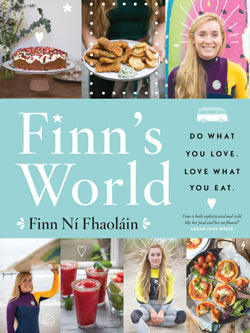 Finn Ní Fhaoláin has a BSc in Earth and Ocean Science and an MSc in Marine Biology. She has also completed a professional cookery course at Lough Gill School of Culinary Arts. She currently lives, surfs and cooks in Bundoran on the northwest coast of Ireland. After her health deteriorated as a student, Finn was eventually diagnosed as a coeliac. She challenged herself to cook delicious, healthy food that was cheap and easy to prepare. This book shares her journey and its culinary results.
There really are a lot of recipes in this book! It covers every occasion from breakfasts, snacks, breads, salads and soups, to mains meals, puddings, bakes, sauces, pickles, drinks… The breadth of flavours and choices covers every craving you could ever possibly have. Recipes include Moroccan Surfer's Breakfast, Popeye Protein Pancakes, No-Amish-Beard-Required Corn Bread, Disco Barbie Beetroot Soup, Sunny Summer Quinoa Salad, Saucy Spanish Tortilla, Irish Malaysian Noodle Soup, Butch Burgers with Cheesy Polenta Fries, Sod of Turf Brownies, Roast Garlic and Preserved Lemon Hummus and Pillowcase Almond Milk. Many of the recipes are also dairy free.
It is also much more than a recipe book. Finn reveals how she has found balance in her life as well as with her food. She gives tips for eating out, healthy living on a budget, kitchen preparation, entertaining and even her playlist. Her bubbly personality comes through in a chatty, informal writing style. You are left feeling that being a coeliac is actually an inspiring challenge rather than a boring problem.
Finn's World by Finn Ní Fhaoláin is published by Gill Books, r.r.p. £19.99 / €22.99
You can buy Finn's World by Finn Ní Fhaoláin it here on Amazon.
Buckwheat Date Chocolate Heaven … er, sorry … Granola
Buckwheat Date Chocolate Heaven … er, sorry … Granola
I am a complete granola snob or, probably more accurately, a grump. When I pick up a pack of granola in the shop – especially the fancy-looking ones – I'm downright miffed. It's basically a tiny box of some grains mixed with a shed-load of sugar and a few sad-looking raisins. Not so with this delicious chocolatey version. Good friends who've gone home with bags of it call it 'Finn's health Coco Pops'!
Makes one 2 litre jar
Ingredients
½ cup (120ml) coconut oil,
melted, or sunflower oil
½ cup (120ml) date syrup
3 cups (500g) toasted
buckwheat
1 cup (100g) GF oats leave
out if you can't have oats and add an
extra cup of buckwheat instead
1 cup (140g) sunflower seeds
½ cup (70g) hazelnuts
3 tbsp cocoa powder
½ cup (80g) raisins
Method
Preheat your oven to 160°C.
Mix the coconut oil and date syrup in a small jug. Lash all the dry ingredients into a bowl except the raisins, as they go all weird and burnt in the oven.
Pour the oil and syrup over the dry mix.
Line a baking tray with baking parchment and spread the granola mix out evenly on it.

Bake for up to 25 minutes, mixing every 10 minutes to ensure even browning. The longer you cook it, the crunchier it will be. Some people like it extra crunchy, but I prefer the chewiness when taken out after around 15–20 minutes.
Add the raisins, stir through and allow to cool before storing.
To serve
Delish by the handful. Also perfect over stewed fruit and Greek yogurt or with milk as a cereal.
This was my go-to dish during my master's year. It made such a massive tray that I could eat it five days in a row and feed friends if we were just back from a surf trip – or in the unlikely event that we were up late studying. It's cheap, tasty and feeds the masses.
Serves as many people as you can fit in your kitchen - roughly 5-8 portions
Ingredients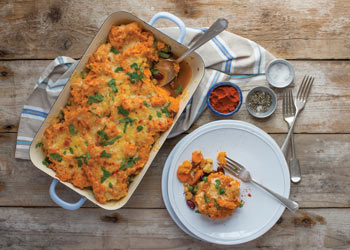 5 skinny sweet potatoes or 2 massive ones

400g tinned mixed beans

400g tinned kidney beans

200g bag frozen veg (e.g. carrot, broccoli and pea mix)

1 red onion

olive oil, for frying

1 pack Mexican spice mix or your own mix of 1tbsp sweet paprika (or pimento if you have it), 1 tsp cayenne pepper, 1 tsp coriander seeds (crushed), ½ tsp garlic powder, salt and pepper careful with the quantities or you will blow your nose clean off

cheese of your choice to grate over the top I like mature cheddar, or a low-fat mozzarella when I'm feeling less bold
Method
Preheat your oven to 200°C.
Put the sweet potatoes on a roasting tray and bung it in the oven. That's right, skin and all – don't do anything to the potatoes! Let them bake till they're soft – i.e. when you smack them with the back of a spoon they are soft and squishy, 30–40 minutes. I used to boil them, but they have a much lovelier flavour baked.
Drain your tins of beans and rinse them in cold water. Set aside.
If you're super organised, defrost your frozen veg the night before. If you're not, sacrilege here, blast them in the microwave till they defrost.
Finely chop your onion. Heat a frying pan on a medium-high heat. When it's hot, lash in a bit of olive oil. Test it with a little piece of onion. When it sizzles, lash in the rest of the onion. Cook the onion till soft.
Chuck in the spices with the onion and sauté for a few minutes. In go the defrosted veggies and stir fry for 5 or so minutes. Pop in the beans and cook for a few more minutes. Set to one side while you wait for your sweet potatoes.
When the sweet potatoes are soft, take them out of the oven – but keep the oven on. When they are cool enough to handle, or if you have asbestos hands like me, shake them out of their skins into a big bowl. Mash using a potato masher with a little butter, or olive oil if you're dairy free. Season to taste.
In a baking dish, spread out your veggie and bean mix. Then spoon the mashed sweet potato on top and smooth it over. Top with whatever obscene amount of cheese you like, or leave it out for a dairy-free option. Pop back in the oven till the cheese is melted and bubbly, 10–15 minutes.

To serve
Since this is protein, carbs and fat in one place, the only addition I usually go for is a little sweet chilli sauce on the side. For a vegan option, leave out the cheese and top with a 'vegan parmesan' of 1 cup (150g) salted cashews blitzed with 1 tsp garlic powder.

Top tips
If you're a student, or just generally watching your electricity bills, it's pretty smart to use your oven to do a few things at the same time. When I make this recipe I will often make something else at the same time.
This freezes well. I separate it into portions, so if I don't have other folk to feed those go into the freezer to be eaten at some other point when I'm too busy to get groceries!
This fella came around as I was doing up cake displays and realised a little colour was needed. This is an absolutely amazing recipe for a party cake, as it looks absolutely awesome. It also happens to be gluten free and dairy free. But sure who cares? It tastes good!
Makes 1 large 23cm cake
Ingredients
Dry Mix

4 cups (480g) ground almonds

2½ tsp GF baking powder

½ tsp ground nutmeg
pinch of salt

Wet Mix

1 cup (235ml) sunflower oil

3 eggs
1 cup (235ml) honey
1 orange, zest only

For the Fruity Bit

4 cups frozen raspberries (520g) or a mix with blackberries

½ cup (110ml) honey
Method
I really like when the raspberries hold their shape in this recipe, so I'm really careful when I defrost them. You don't want to throw frozen raspberries into the mix or the batter
around them won't bake right!
Preheat your oven to 180°C.
Get a pot, pour in a few inches of boiling water, pop it on the hob over a medium-high heat and cover with a large metal sieve. Pop your frozen raspberries into the sieve. The steam from the water will defrost them gently and the raspberry juice that ends up in the water can be simmered down with honey later to make a fruit syrup.
While those lads are defrosting, let's make the cake mix!
Add all the dry ingredients to a bowl and mix.
Add all the wet ingredients to a big bowl and whisk thoroughly.
Add the dry to the wet and mix until you have a thick but runny batter.
Line a 23cm springform cake tin with baking parchment. Make sure you cover the bottom and the sides – we want all our lovely cake to stay inside the tin!
When your raspberries are defrosted, scoop 3 cups (400g) of them into the base of the baking tin and drizzle the honey over. Put the last of the berries into the cake batter and give it one gentle swirl through. This gives the cake an amazing marbled colour.
Pour the batter on top of the berries in the tin and pop into the oven for 40 minutes to 1 hour - baking time depends on the liquid in the berries and the type of oven. It's ready when a knife poked in comes out with crumbs instead of batter.
Take the cake out of the oven and let it cool in the tin.
To serve

To get the cake out of the tin and onto a plate, release the springform sides and remove. Place a plate over the top of the cake. Hold on to the plate and the cake tin base and gently turn it over. The cake is now on the plate and you can carefully peel off the baking parchment. This is a really moist cake so it keeps well for quite a few days in the fridge.
You can buyFinn's World by Finn Ní Fhaoláin from our bookshop.

Return to cookery writers home