The Gut Health Diet Plan: Recipes to Improve Digestive Health and Boost Well­being by Christine Bailey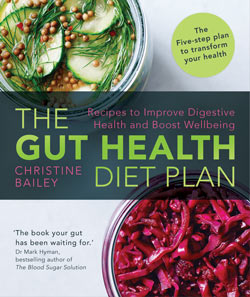 It is now widely recognised that gut health is critical to our overall well­being and that many major health concerns can be linked to an irritated or unhealthy gut: autoimmune conditions, allergies, arthritis, chronic fatigue syndrome, depression and mood swings, to name a few. What's worse, gut health issues affect a huge proportion of people and are often ongoing and difficult to resolve. But it does not have to be this way.

Christine Bailey shows you how you can tackle the causes at their root, instead of treating symptoms as they arise, with The Five Step Programme: a five step process based on the functional nutrition principles to enable you to remove the triggers and support healing to your gut and ultimately your whole body.

This easy­to­follow plan ­ featuring 70 gluten free and paleo style recipes with options for specific diets including low sugar, low FODMAP, vegan and vegetarian ­ will help you remove the underlying factors wreaking damage on your gut, restore digestive function, quench inflammation; healing your gut for good, and achieving true, long­lasting health. 
The Gut Health Diet Plan is published by Nourish, May 2016, £12.99
Visit Christine's website at www.christinebailey.co.uk
You can also buy The Gut Health Diet Plan here on Amazon.
Sample recipes
Pumpkin & Cinnamon Paleo Granola
Corn, egg, gluten, lactose, milk, nightshade, peanut, sesame, soya & wheat free
Southern Oven Baked Paleo Chicken with BBQ Sauce
Corn, gluten, lactose, milk, peanut, sesame & wheat free
Restorative Chicken Noodle soup
Corn, gluten, lactose, milk, nut, peanut, sesame, soya & wheat free
Quick Speedy Kimchi
Corn, egg, gluten, lactose, milk, nut, peanut, sesame, soya & wheat free

Pumpkin and Cinnamon Paleo Granola
Corn, egg, gluten, lactose, milk, nightshade, peanut, sesame, soya & wheat free
Coconut and nuts form the base of this tasty grain-free granola with puréed pumpkin. If you use tinned pumpkin, check that it doesn't contain sweeteners or sugars. If you like, add a spoonful of cocoa powder for a chocolate version or a spoonful of maca powder to support adrenal health. To make this suitable for low FODMAP diet use maple syrup instead of honey.
Makes 12 Servings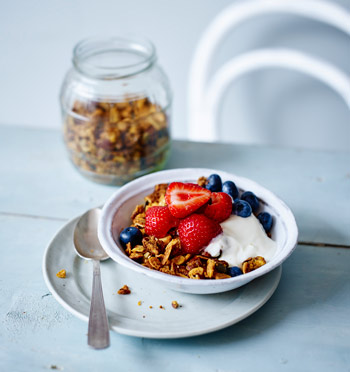 Ingredients
55g / 2oz / 1 cup coconut flakes
120g / 4¼oz ground almonds

100g / 1 cup flaked almonds

60g / 2¼oz / ⅔ cup walnuts, chopped

120g / 4¼oz / 1 cup pumpkin seeds or mixed sunflower, sesame and pumpkin seeds

2 tbsp ground flaxseed

125g / 4½oz / 1¼ cups pecan nuts, chopped

100g / ½ cup tinned pumpkin purée or steamed or baked and puréed squash or pumpkin

60g / 2¼oz coconut oil, melted

2 tbsp maple syrup, coconut syrup or honey

1 tbsp vanilla extract

a pinch of sea salt

2 tsp ground cinnamon
Method
Preheat the oven to 180°C/350°F/Gas 4 and line a baking sheet with baking parchment.
Put the coconut flakes in a large bowl and add the almonds, walnuts, pumpkin seeds, flaxseed and pecans.
Mix well.
Put the pumpkin into a blender or food processor and add the coconut oil, maple syrup, cinnamon, salt and cinnamon.
Blend to combine.
Pour the pumpkin mixture over the nut mixture and stir, using a wooden spoon, until thoroughly coated.
Spread the granola in a thin layer on the baking sheet.
Bake for 30 minutes or until lightly golden, stirring occasionally to prevent burning.
Leave to cool. Store in an airtight container for up to 2 weeks.
Southern Oven Baked Paleo Chicken with BBQ Sauce
Corn, gluten, lactose, milk, peanut, sesame & wheat free
Crispy oven baked chicken and served with a delicious tangy sauce. The chicken is equally ideal cold in packed lunches. Accompany with a leafy green salad.
Serves 2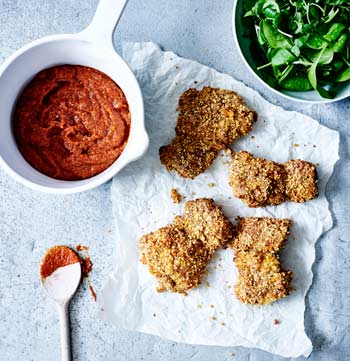 Ingredients
2-4 chicken thighs, boneless, skin removed

100g almonds

½ tsp smoked paprika

1 tsp garlic powder

pinch of cayenne pepper

1 egg beaten

sea salt and black pepper
Sauce
1 shallot chopped

1 clove garlic, minced

200g chopped tomato

60g tomato puree

1 apple, chopped

60ml balsamic vinegar

1 tsp Dijon mustard

1 tsp lime juice

1 tsp xylitol or stevia to taste

1 tbsp tamari soy sauce or coconut aminos

½ tsp  fresh ginger, chopped

½ tsp ground cinnamon

½ tsp smoked paprika

pinch of chilli flakes
Method
Preheat the oven to 190C gas mark 5.
Add all the ingredients for the sauce to your blender or food processor and process until completely reduced to a fine, liquid puree.
Transfer that puree to a medium saucepan and bring to a boil.
Lower the heat, cover and simmer for 40 minutes, stirring from time to time, until the sauce is nice and thick and darker in colour. 
You can then cool this sauce and store in the fridge for up to 1 week until ready to use.
Place the almonds in a food processor and process until fine.
Place in a shallow bowl and add the spices. Season.
Place the beaten egg in a separate bowl.
Dip the chicken in the egg then coat thoroughly in the nut crumb.
Line a baking tray with kitchen foil. Place a rack on top.
Grease the rack well with olive oil this will prevent the chicken from sticking. 
Place the chicken pieces on the rack and drizzle over a little olive oil or melted butter. 
Bake the chicken in the oven for 40 minutes or until golden and crisp.
Serve with the sauce and steamed greens or salad
Restorative Chicken Noodle Soup
Corn, gluten, lactose, milk, nut, peanut, sesame, soya & wheat free
A low carb healing soup. Instead of regular noodles I use strips of courgette. You can make this low FODMAP by leaving out the garlic and using only the green tops of spring onions.  Garlic is a potent anti-microbial food useful for tackling gut infections.
Serves 2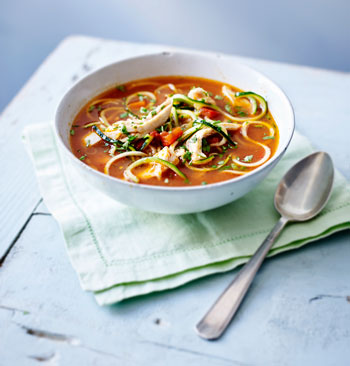 Ingredients
2 organic chicken breasts

400ml homemade chicken stock

1 tsp coconut oil

2 spring onions sliced

1 celery stalk, diced

½  red chilli. deseeded and diced

1 garlic clove, crushed, optional

200g canned chopped tomatoes

½ red pepper, diced

1 tsp tomato puree

pinch of smoked paprika

½ tsp ground cumin

1 medium courgette, about 150g

Handful of coriander chopped

Sea salt & freshly ground black pepper to taste
Method
Place the chicken breast in a pan and pour over the stock.
Bring to the boil and simmer for 15 minutes.
Turn off the heat and leave the chicken to continue to cook in the stock for a further five minutes.
Remove the chicken from the stock and set aside.
Heat the coconut oil in large pan and saute the onion, celery, chilli and garlic for 2-3 minutes until the celery is soft.
Pour over the tomatoes, chicken stock and add the mushrooms, tomato puree and spices. 
Cook over a low heat for 5 minutes until the vegetables and soft.
Use a spiraliser to create courgette noodles.
Shred the chicken and add to the pan with the noodles.
Simmer for 1-2 minutes until the courgette noodles are just soft.  
Season to taste.
Spoon into bowls and top with chopped coriander leaves.
Corn, egg, gluten, lactose, milk, nut, peanut, sesame, soya & wheat free
I love this spicy fermented relish. There are so many variations and it is worth you experimenting with your own flavours. Kimchi is a delicious Korean dish consisting of fermented chili peppers and vegetables, usually based on cabbage. Delicious as an accompaniment to meats and fish or topped on salad.
Makes 1 litre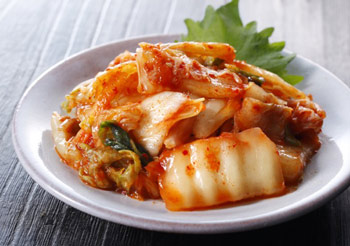 Ingredients
Head of Napa cabbage or Chinese cabbage

¼ cup sea salt

Water

Fine red chili flakes ¼ cup or to taste

1 tablespoon minced garlic or about 3-4 cloves

1 tablespoon minced ginger

3-4 green onions, sliced

2 tablespoons fish sauce

½ onion

1 ripe apple or pear

1 tbsp coconut sugar
Method
Separate cabbage leaves and chop into bite-size pieces.
Dissolve a quarter cup of sea salt in a bowl of warm water, then pour salt water over cabbage leaves.
Give cabbage a gentle toss to distribute salt water.
Allow salted cabbage to sit for at least four hours.
Give cabbage a good rinse to remove excess salt, then transfer cabbage to a large bowl.
Combine a quarter cup of fine red chili flakes with warm water, stir gently with a spoon to create a red chili paste, then transfer chili paste to cabbage.
Add minced garlic, minced ginger, green onions, and fish sauce.
Blend yellow onion, apple or pear with one cup of water, then add this natural sweetener to the cabbage.
Put on a pair of plastic gloves and give everything a thorough toss and rubdown.
You want to evenly distribute all ingredients, especially the red chili paste.
Transfer seasoned cabbage leaves into a large glass bottle.
Be sure to use firm pressure with your hands to push down on cabbage leaves as they stack up inside the bottle.
Transfer any liquid that accumulated during the mixing process into the bottle as well - this liquid will become kimchi brine.
Some liquid will also come out of the cabbage leaves as you press down on them as they are stacked in the bottle.
Be sure to leave about 2 inches of room at the top of the bottle before capping it tightly with a lid. Allow bottle of kimchi to sit at room temperature for 24 hours.
You can buy The Gut Health Diet Plan from our new bookshop here.

Return to cookery writers home