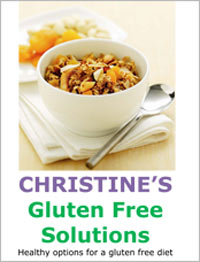 Christine Bailey's Gluten-free Solutions – Breakfast

Christine is qualified Nutritional Therapist and chef with over 16 years experience in the food and health industry. She is also a qualified NLP Practitioner (neuro-linguistic programming) which enables her to combine nutritional advice with life coaching.
Christine has presented seminars, workshops and courses over the years for some of the UK's biggest companies, regularly teaches at the Nutrition Centre CNELM (Centre for Nutrition, Education and Lifestyle Management) and runs courses for local authorities, charities, schools and colleges. She as also written a number of cookbooks, the latest of which are available as downloadable e-books. These include healthy eating for kids, recipes for brainy kids, weight loss and now, a series of gluten-free solutions books the first of which, reasonably enough – is breakfast.
The booklet costs £5 and can be downloaded from the Advance Nutrition bookshop along with several of Christine's other books. Meanwhile, here is her recipe for gluten-free almond and blueberry muffins to whet your appetite!
Christine's Almond and Blueberry Muffins
Protein packed muffins that are easy to grab and go on busy mornings. I make up a large batch and then freeze them until needed. Ground cinnamon has been shown to help stabilise blood sugar levels

Make 12 muffins

150g / 5oz soy flour
150g/5oz ground almonds
3tsp baking powder
50g ground flaxseed or ground mixed seeds
8 tbsp xylitol
½ tsp cinnamon
100g / 3 ½ oz fresh blueberries
6 eggs, beaten
140g / 5oz yogurt or low fat crème fraiche or buttermilk
1tsp almond extract, optional
125ml / 4floz olive oil

1. Preheat the oven to 180°C, gas mark 4. Grease a muffin mould tin.
2. Combine all the dry ingredients in a bowl. Beat together the wet ingredients and combine with the dry ingredients.
3. Spoon into the muffin moulds. Bake for 25-30 minutes until risen and golden. Leave in the tin for 5 minutes before turning out. Cool on a wire rack