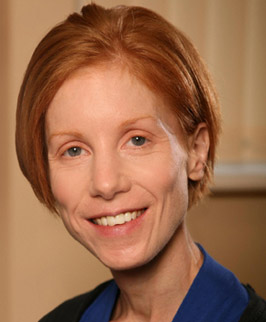 Natural Power Foods by Christine Bailey
Christine Bailey is a positive power house herself so she knows what she is talking about here!

She teaches, writes books, blogs, is consulted by hundreds
of people with diet and nutrition problems and companies wanting to create healthier foods, runs the Freefrom Food Awards children's category – and has a busy family life!
Her son Nathan who is coeliac also runs his own blog.
For more on Christine herself see here.
Christine's new book highlights the important link between
diet and mental health, and how the right foods and nutrients can lead you from lethargy to a happy, energetic new lifestyle.

Depression, stress and low energy levels seem like
inevitable symptoms of our hectic modern lives, often made worse by our quick-fix diet of caffeine, alcohol and sugary snacks. But it doesn't have to be that way.
Christine offers extensive advice and tasty recipes (all freefrom, of course!) to enable you to harness the natural power of food and boost your mood. Specialised chapters provide practical nutritional advice to help alleviate the symptoms of a range of conditions, from depression and difficulty sleeping to Seasonal Affective Disorder and PMS.
Natural Power Foods is available from Amazon or via her website www.advancenutrition.co.uk.

---
Shredded Chicken Lettuce Wraps with Walnut Oil Vinaigrette
Gluten and Dairy Free
A light, low-carb dish using lettuce leaves instead of bread to enclose the filling. Walnut oil is a good source of omega 3 essential fats and provides a wonderful nutty flavour to the dressing. Instead of chicken breast you could use turkey mince and brown it in the pan.
Serves 2
For the dressing:
2 tbsp sherry vinegar
3 tbsp walnut oil
1 tbsp olive oil
a pinch of sugar
½ tsp Dijon mustard
1 tbsp coconut oil
1 garlic clove, crushed
115g (4oz) mixed mushrooms, sliced
2 roasted chicken breasts, shredded
60g (2oz/½ cup) walnut pieces, toasted
6–8 cos or little gem lettuce leaves
Whisk together the ingredients for the dressing and set aside.
Heat the oil in a frying pan and sauté the mushrooms and garlic for 3–4 minutes until browned, taking care not to burn the garlic. Place in a bowl with the chicken and walnuts, add the dressing and mix gently. Spoon the chicken mixture into the lettuce leaves and serve immediately.
Puy Lentil Salad
Gluten and Dairy Free

Puy lentils are high in fibre and provide plenty of slow-release energy to help satisfy the appetite and avoid mid-afternoon energy slumps. This delicious salad is dressed with a walnut and balsamic vinaigrette to provide plenty of health-promoting omega 3 fats. Accompany with a little gluten free bread if wished.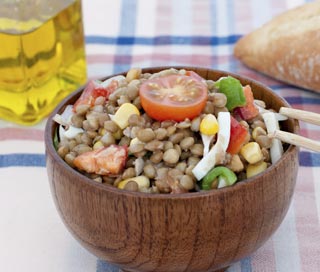 Serves 2
250g (9oz/1¼ cups) puy lentils
3 tomatoes, chopped
1 green pepper chopped
Handful of cooked sweetcorn, optional
½ red or white onion, sliced
6 basil leaves, torn
For the dressing:
3 tbsp balsamic vinegar
½ tsp Dijon mustard
2 tbsp walnut oil
2 tbsp olive oil
sea salt and freshly ground black pepper
Place the lentils in a large pan, cover with cold water and bring to the boil. Turn the heat down, cover with a lid and simmer for 15–20 minutes, or until al dente. Drain the lentils and place in a bowl. Add the remaining ingredients and basil leaves.
Whisk together the ingredients for the dressing, pour over the lentil salad and toss lightly to coat.
Maca Ice Cream
Gluten and Dairy Free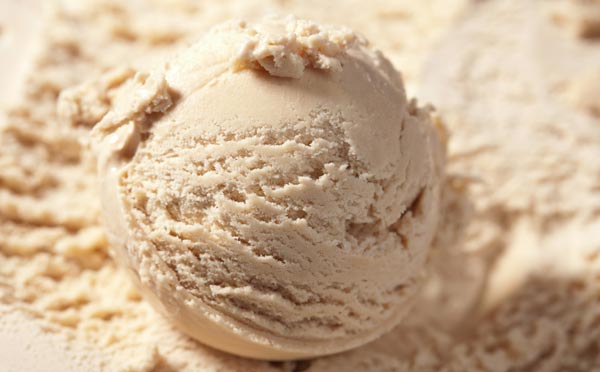 Maca is a delicious superfood known for its ability to help the body cope with stress. This dairy-free ice cream is simple to prepare, high in protein and low in sugar. For a really creamy texture use canned coconut milk.
Serves 4
280g (10oz/1¾ cups) cashews
2–3 tbsp Manuka honey to taste
1 vanilla pod, split in half and seeds scraped out (discard the pod)
700ml (1½pt) almond milk or coconut milk
3 tbsp maca root powder
1 tsp lemon juice
a pinch of sea salt
Place all the ingredients in a high-speed blender and process until smooth. Pour into an ice-cream maker and churn according to the manufacturer's instructions.
Alternatively pour into a freezable container and place in the freezer for 2 hours. Remove from the freezer and beat in a food processor until smooth. Return to the freezer until required.

Chocolate Banana Mousse
Gluten and Dairy Free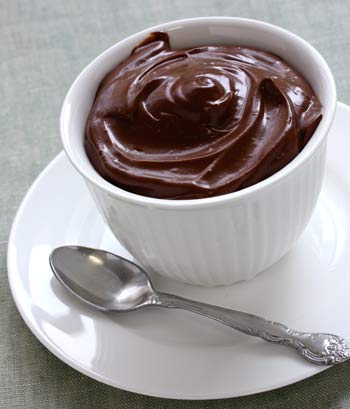 Adding avocado to this pudding creates a wonderfully rich dessert packed with healthy fats and plenty of antioxidant vitamin E. Raw cacao powder is high in protective antioxidants while the cashew nut butter adds protein and healthy fats. For additional protein you could add a scoop of chocolate pea protein powder.
Serves 2
2 ripe bananas
1 ripe avocado, peeled and pitted
1 tbsp melted coconut butter
4 tbsp raw cacao powder
1 tbsp Manuka honey
1 tbsp cashew nut butter
1 scoop chocolate protein powder (optional)
coconut flakes and cacao nibs to garnish
Place the bananas, avocado, oil, cacao powder,
honey, nut butter and protein powder (if using) in a blender and process until smooth and creamy. Spoon into glasses and top with a few coconut flakes and cacao nibs to serve.