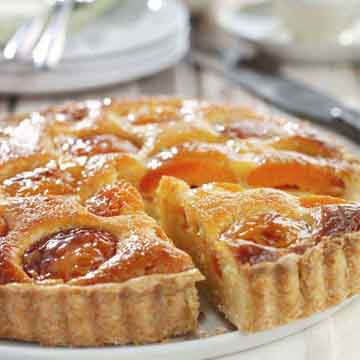 Apricot and orange tart
How to cook for food allergies
by Lucinda Bruce-Gardyne
Lucinda Bruce-Gardyne has three boys who, between them, cannot eat dairy, eggs, gluten or potatoes. Fortunately for them, she is a chef - and she has now combined her professional and personal experience to produce a comprehensive guide to cooking for for those with multiple allergies.
Chapters 1-3 give general advice about living with allergies, including a useful section on what nutrients you may be missing if avoiding certain food groups. Chapters 4-8 look at substitutes and give comprehensive suggestions for
alternatives for every food you can think of!
The rest of the book is given over to an interesting collection of recipes from the basics (white sauce) to the exotic (Lebanese chicken kebabs). Lots of helpful
cooking hints for allergy sufferers plus alternatives for almost any restriction are flagged up and suggested in the ingredients lists.
We chose the Apricot and Orange Tart because it included lots of Lucinda's variations - and looked delicious!

You can buy How to Cook for Food Allergies (ISBN 978-1-9057-4404-6 -published by Rodale) via Lucinda's website or from Amazon here.
FreeFrom Apricot and orange tart

This tart looks impressive and tastes wonderful. It is soya free and simple to adapt for gluten and nut-free diets. For an egg-free tart see the variation below. This requires a few more substitutions but is well worth the effort.
Serves 8-10
For the pastry
110g brown rice flour
55g cornflour
1/2 tsp salt
55g ground almonds
(for nut free - substitute110g cornmeal for the cornflour and almonds
110g cold butter
(for dairy free substitute
baking magarine)
1 egg beaten with 1 tbsp water
(for egg free substitute 50ml water)
1. Sieve flours and salt in a large mixing bowl and add the almonds if using them.
2. Rub the butter or margarine into the flours with your fingertips till it resembles fine breadcrumbs.
3. Using a table knife stir in 1 tbsp of the liquid until the mixture clumps together. Add more if too dry.
4. Bring the dough together in a ball, place on a flour-dusted surface and knead lightly until smooth; add more liquid if it starts to crack. Wrap in clingfilm and chill.
For the filling
110g softened butter
(for dairy free use dairy-free
margarine)
110g caster sugar
2 eggs, beaten
100g ground almonds
(for nut free use self-raising flour)
30g plain flour
(for gluten free use potato flour)
finely grated zest and juice 1 orange
750g fresh ripe apricots,
halved and stoned
To glaze
3 tbsp apricot jam
1. Preheat the oven to 180C/350F/ Gas Mark 4.
2. Make the pastry, roll thinly between sheets of clingfilm and use to line a 25cm tart tin with a loose base. Chill for 30 minutes.
3. To make the sponge filling, whisk the butter, sugar, eggs, almonds, flour, orange zest and juice in a bowl until light and fluffy. (If the mixture curdles the cooked filling may be slightly denser but just as delicious). Spread the mixture over the chilled pastry case and arrange the apricot halves, skin side up, on the top.
4. Bake the tart on the middle shelf of the oven for 15 minutes, or until the filling has puffed up and is turning light golden brown. Turn the oven down to 170C/325F/ Gas mark 3 and cook the tart for a further 30 minutes or until the sponge filling is set in the centre.
5. Lift the tart out of the oven, remove the sides of the tart tin and leave to cool on a wire rack.
6. Meanwhile, melt the jam in a small pan, pass it through a sieve into a bowl to remove any pieces of fruit and leave to cool for 1 minute.
7. With a pastry brush, dab and brush the glaze over the surface of the tart, filling any gaps with glaze. Leave to set before serving.
Egg-free filling

Mix together 55g ground almonds, 85g self-raising flour and 1 tsp baking powder; whisk this mixture with the soft butter, sugar, orange zest and juice and 100ml apple purée (310g desert apples cooked with 11/2 tbsp water and beaten till smooth) until light and fluffy. Spread the filling in the pastry case and continue as above.