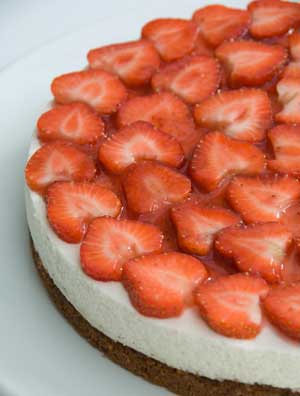 Learn to cook wheat, gluten and dairy free –
100 step-by-step recipes by Antoinette Savill

Antoinette Savill is well known in the gluten-free world both for her excellent cookbooks and for her range of gluten-free baked goods including rolls, pizza bases and yummy chocolate muffins.
The recipes in her latest book are not only gluten and wheat free but dairy free, making it a great choice for a family with multiple allergies. It provide easy but tasty recipes for all those dishes (lasagne, burgers, cheesecakes, pizzas, quiches and cakes) which you used to pick up ready-made in the supermarket but now have to make!
Apart from the recipes, each section has a useful introduction with helpful tips for both general and gluten-free cooking.
The book is published by Grub Street at £14.99 but is currently on offer at Amazon.
Strawberry Cheesecake

It is amazing to think that nowadays you can make a delicious light and creamy cheesecake which is not only gluten and dairy-free but nut-free too. It keeps in the refrigerator for a day which is a great help with parties.
Serves 8-12.

300g packet gluten, dairy and nut-free digestive-style biscuits
85g dairy-free sunflower spread, melted
85g/½ cup demerara sugar
Optional – ½ teaspoon ground cinnamon or ginger
2x225g tubs Tofutti Creamy Smooth Original cream-style cheese
3 teaspoons pure vanilla extract
3 tablespoons soya dairy-free single cream
3 tablespoons caster sugar
11.7g sachet/1 tablespoon gelatine powder dissolved in 150ml/½ cup plus 1 tablespoon boiling water, or the vegetarian equivalent
2 large egg whites, stiffly beaten
450g fresh strawberries, hulled and wiped clean
Strawberry jam to glaze

You will need 23cm/9in spring-form cake tin lined with baking parchment.
Preheat oven to 180C/350F/ Gas 4.

1) Make the crust first. Break up the biscuits and process them in a food processor until they resemble coarse breadcrumbs. Transfer them to a large bowl.
2) In a small pan, heat the sunflower spread, sugar and spices, if using, until melted and then pour into the biscuit crumbs and mix thoroughly.
3) Spoon the crumb mixture into the lined tin and press down hard until it is flat and even. Bake in the oven for about 20 minutes; remove from the oven and leave to cool.
4) When the base is cold make the filling. Place the cheese, vanilla, soya cream and sugar in a large bowl and mix until creamy and smooth.
5) Stir in the dissolved gelatine and then fold in the beaten egg whites. Spoon the mixture over the base and smooth over. Chill until firmly set.
6) Dip a knife in boiling water and quickly go round the cheesecake so that you can open and lift off the tin ring without taking any of the cheesecake with you. Slide a palette knife under the base so that you can slide the cheesecake off the lining paper onto a serving plate.
7) Cover the whole of the top of the cheesecake with halved or sliced strawberries working from the edge inwards. Warm some jam in a small pan and then brush it lightly all over the strawberries. Chill until needed.