Antoinette Savill – Gluten, wheat and dairy-free cooking made easy – picnics, finger food and lunch boxes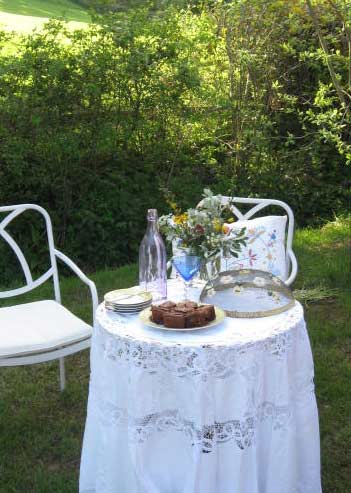 Anyone who cooks gluten and/or dairy-free will be familiar with Antoinette's books and, most likely, with some of her products. What they will not yet be familiar with is her exciting venture into full connectedness with the use of the QR (Quick Response) codes within food allergy recipes to generate a shopping list for ingredients for each recipe. How cool is that?...
The first book in which she is using the QR code
is her Gluten, Wheat and Dairy Free Cooking Made Easy: Picnics, Finger Food and Lunch Boxes, now available on Kindle from Amazon here -
cost £5.89.
Using the healthiest and freshest of ingredients, Antoinette has used her more than extensive knowledge of 'special diet' cooking to create a great selection of dishes for picnics, finger food and lunch boxes. The recipes are quick and easy to prepare but full of delicious ideas for dips, tarts, salads and wraps, mouthwatering cookies, cakes and dessert. Perfect for anyone wishing to indulge themselves - or others!
To whet your appetite try out her Tarragon and Pea Quiche and her Coffee and Brazil nut Brownies.
Tarragon and Pea Quiche
I grow tarragon in the garden, and always have peas in the deep freeze and eggs, cream and cheese in the refrigerator so this was a heaven sent recipe when I created it.

Serves 6 for a picnic and finger food or halve the recipe for lunch box fillers, use mini muffin pans if you prefer

Gluten-free and wheat-free, and can be dairy-free

Preheat the oven to 200C (180C fan) / 400F / Gas mark 6
Pastry
255g (2¼ cups) white plain GF flour mix or organic spelt flour if suitable
130g (4½ oz) butter, DF sunflower spread or lactofree spreadable or goats' butter if suitable
1 large free-range egg
Cold water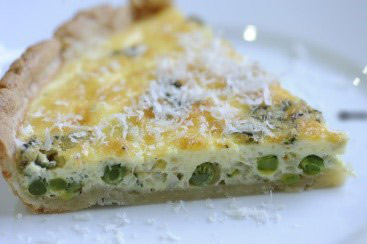 Filling
1 tablespoon cold pressed extra virgin olive oil
1 onion, peeled, finely chopped
1 teaspoon dried Herbes de Provence or mixed herbs
400g (14 oz) fresh green peas in their pods,
shelled
1 tablespoon fresh tarragon leaves
4 large free-range eggs, beaten in a bowl
Fine sea salt, freshly ground black pepper and freshly grated nutmeg
250ml (1 cup) crème fraîche, double goats' cream (heavy cream), lactofree cream or DF soya cream
30g (¼ cup) freshly grated Parmesan, Pecorino, hard goats' cheese or lactofree semi-hard cheese or DF soya cheese
Cayenne pepper to dust
You will need ceramic baking beans and a 28 cm (11 in) quiche dish or fluted loose-bottomed tart pan lined with baking parchment (wax paper) or lined mini muffin pans

Make the pastry by mixing the flour and butter or spread in a food processor and process until the mixture resembles breadcrumbs.
Add a pinch of salt and the egg and whiz until the dough comes together into a smooth ball. Only add a little water at a time if the mixture is too dry, this will depend on the type of flour that you use.
Remove the pastry, wrap in clingfilm (food wrap) and chill for 30 minutes.

Heat the oil in a non-stick frying pan (sauté pan) and cook the onion over a medium heat until soft but not brown. Cook the peas in a pan of boiling water until tender, drain and refresh under cold running water. Stir the dried herbs into the onions and cook for a few more minutes.

Roll out the pastry until it is thin and large enough to line the prepared dish or mini muffin pans. Neaten the edges with a sharp knife. Prick the base with a fork, cover with a layer of baking parchment (wax paper), and fill with baking beans and bake blind for 10 minutes.

Take out from the oven, remove the paper and beans and return the quiche to the oven for 5 minutes to cook the base through. The same instructions apply for the mini quiches.

Put the warm onions in a bowl with the peas, tarragon, beaten eggs, seasoning and mix thoroughly. Stir in the cream of your choice and pour the mixture into the pastry case. Sprinkle with the grated cheese of your choice and lastly the cayenne pepper. Bake the quiche in the centre of the preheated oven for about 20 minutes or until the filling is set. Cool before cutting the picnic quiche and serve at room temperature or chilled.
Coffee and Brazil nut Brownies
These brownies are equally delicious with ice-cream as a pudding as they are for picnics and lunch boxes. They also freeze well.

Makes 12 for a picnic and finger food or halve recipe for lunch box fillers

Gluten-free, wheat-free, and can be dairy-free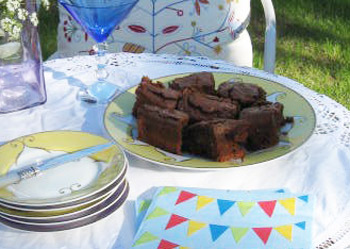 Preheat the oven to 190C (170C fan) / 375F / Gas mark 5
85g (3 oz) butter, goats' butter, lactofree spread, DF sunflower spread
200g (1 cup) Demerara sugar
130g (generous ¾ cup) white rice flour
1½ teaspoons GF baking powder
Pinch of fine sea salt
2 large free-range eggs, lightly beaten
1 teaspoon Madagascan vanilla extract
1 heaped teaspoon instant coffee, dissolved
in 1 tablespoon boiling water
1 tablespoon DF cocoa powder, dissolved in 1 tablespoon boiling water
55g (½ cup) Brazil nuts, roughly chopped and lightly dusted with rice flour
85g (½ cup) good quality plain chocolate (cocoa solids 72-80%) drops or pieces, or DF milk chocolate, roughly chopped or as drops
You will need an 18 x 25 x 3 cm (7 x 10 x 1¼ in) baking pan, lightly oiled
Heat the butter or spread and sugar together in a pan until it begins to dissolve, then remove from the heat and allow to cool.
Sift the flour, baking powder and salt into a bowl. Mix together the eggs, vanilla extract and dissolved coffee and cocoa in a small bowl. Stir the egg mixture into the butter mixture and then fold in the flour mixture. Lightly stir in the nuts and chocolate drops or pieces, and then pour the mixture into the prepared pan. Bake the brownies for 20 minutes in the centre of a preheated oven or until the sides are coming away from the edge of the tin. Leave to cool in the tin. When cold carefully cut the cake into 12 squares and serve or store in an airtight container until needed.