The Breakspear protocol through life
Julie Anne Goode has suffered from multiple allergies since her earliest childhood. But again and again she has been 'rescued' by Dr Jean Monro and the protocols she has set up at Breakspear Medical.
---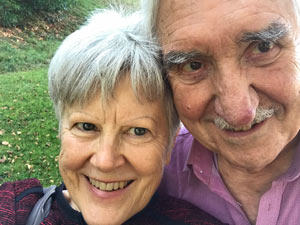 As a small child in the early 1950s, I was diagnosed with asthma and multiple allergies by a doctor in a small town on the West Coast of America. For as long as I can remember, I have battled the effects of food, pharmaceutical drugs, chemical and synthetic products, moulds, flowering plants and hairy animals, not to mention the unseen, airborne hazards of living in a rural community and later in big cities. I was determined all the while to appear as normal as possible to those around me.
Throughout my childhood I endured thrice-weekly injections and a diet that challenged my mother and set me apart from my contemporaries. Then, in my teens, the treatment was deemed a success and I was on my own. All went reasonably well until my early 20s, when a trip to the dentist resulted in the improper filling of a molar with amalgam, which, unknown to me, was to provoke regular and violent, protracted migraine headaches that inevitably put strain on my personal and professional relationships. I was in and out of doctors' and psychologists' surgeries to no avail.
Much later in my life, after 34 years of suffering, Dr Jean Monro recommended that I have all my old amalgam fillings replaced with composite and, after I had them all replaced, things dramatically changed. The improvement in my health was immediate and permanent; I haven't had a single migraine since.
Following four years of graduate school, I became a university lecturer. After two years lecturing, I realised that I must complete my PhD thesis in order to progress in my field so I resigned from my job and sailed to France. While in Paris, I met my husband-to-be, Stanley Sadie, who eventually scooped me up and brought me to London, where we were married in 1978.
The birth of our first child, Celia, and then an extended, round-the-world book launch involving the consumption of a wide array of exotic drinks and canapés left me feeling as though I was shackled to an invisible ball and chain. It was evident to me that my childhood allergies had been provoked and that I had to seek medical assistance.
In 1981, my GP's first reaction was to tell me that she was very sorry but the NHS wasn't treating allergies. I begged to be referred to a private specialist interested in treating my sensitivities and I was mercifully referred to Dr Monro by Dr Jonathan Brostoff, who was then a consultant at the West Middlesex Hospital. However, he only referred me after he subjected me to an elimination diet that left me unable to eat anything other than lamb and carrots and, critically, unable to look after my small child.
Under Dr Monro's care, I discovered a clinical environment where my sensitivities to just about everything were taken seriously, contextualised and supported. I quickly learned to trust her approach and embrace new and effective ways of controlling my symptoms and restoring my quality of life. From 1982-83, Dr Monro watched over me during my pregnancy with my second child, Matt. She carefully treated me for glandular fever and attended his early morning delivery to ensure that I wasn't given any unnecessary drugs. I was deeply grateful for her support during that time and shall never forget it.
After five years of low-dose immunotherapy vaccines and supplements, she suggested I try to manage without them, and for the next 20 years I did. Those 20 years were a very busy time, both in terms of family life and my professional activities. In that time, I produced two books, Companion to Baroque Music and The New Grove Dictionary of Women Composers, earned a fifth academic degree in museum and gallery management, travelled to Europe on more than 40 occasions to research another book, co-written with Stanley, called Calling on the Composer, then underwent a hysterectomy and was in a car accident in rural Russia, which left both of us seriously injured.
In 2000, we left London for Somerset and moved into an ancient manor house in a small village. There we set up and ran a successful year-round chamber music series, using the house and the parish church in our garden as concert venues. All the while, we continued to research and write Calling on the Composer, which is a memoir of our travels and efforts to establish a Handel House Museum in London, and complete Stanley's Mozart: The Early Years. Sadly, Stanley never saw either book into print. He died in March 2005 of a rare form of motor neurone disease after declining in health over a two-year period. I had known for a long time that he was dying, but it wasn't something he wished to face until near the end.
The prolonged period of stress and grief proved too much for me, and in the months afterwards, I became aware that my allergies/sensitivities were returning with a vengeance. "Could Dr Monro help me again?", I wondered; "yes" was the merciful answer.
I was even luckier than I could have imagined, because in the meantime, I had married another wonderful person, David Goode, a local man and widower of 20 years who had been a stalwart member of our concert series society. He has been by my side and incredibly supportive over the past 13 years as we've visited Breakspear Medical every three months for retesting. Thanks to Dr Monro and David, I have been able to regain my health and zest for life.
With the passing of time, my weight gradually increased and my blood pressure and cholesterol levels began creeping up. I put it down to heredity. Then, two years ago, a persistent grumbling pain in the region of my liver prompted me to seek Dr Monro's opinion. After examining me in her charmingly thorough way, she offered the words I'd prayed I'd hear: "I think we can help you." If you're a patient of Breakspear Medical, you know what that means: further tests, avoidance of the worst offenders and adherence to ambitious regimes of infusions, supplements and strange equipment. However, in this case, the focus of the treatment, after blood tests, involved adopting a far more rigorous diet and supplement regime than any she'd previously prescribed.
Because I was concerned about the nagging pain, I took her advice. Inspired by the hope she gave me, I have been able to reduce my blood pressure and cholesterol level, as well as my weight. Strengthening my liver and related organs seemed initially paramount and even now, while apparently addressed, it remains a priority, bearing in mind a family history of cancer.
However, what I hadn't immediately appreciated was how exceptionally well and how much younger I would feel as a result of following her advice to the letter. There are prices to pay, some practical and others antisocial, but they pale into insignificance when set against the gains in quality of life. Acquiring a new wardrobe (three/four sizes smaller) is an expensive yet joyful response to losing weight and keeping it off. Organic food is expensive but definitely tasty. And if giving up anything containing grains and added sugar are my most obvious sacrifices, I have been delighted to discover that I still have lots of energy and am now content without them in my diet. As someone who loves to cook and entertain, I find that much the biggest challenge, whether as a host or a guest, is to make other people feel comfortable with my regime.
I know that without the opportunities, inspiration and unstinting support offered at Breakspear Medical, the quality of the life I enjoy as a music professional, wife, parent, proud grandparent, friend and now older woman would have been considerably curtailed. As I write, I am even researching yet another book! I consider myself to be an incredibly fortunate person. I wish to extend heartfelt thanks to Dr Monro, her colleagues for their perceptive, compassionate practice of medicine, and all the nurses who have tested and treated me over the years.
---
November 2019
---
Click here for more personal histories