Christmas with allergies
Nathalie has done everything in her power to ensure that her multi-allergic son Callum can take part in all the Christmas festivities. But as he gets older he has started to realise that being food allergic does mean that you may miss out – particularly hard to bear for children and adults alike at festive party times like Christmas.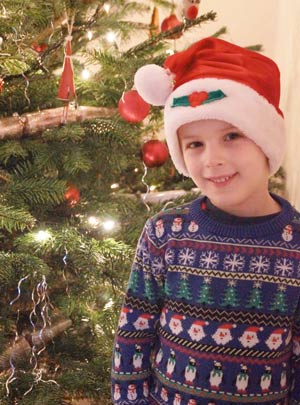 Ah Christmas! It makes you smile just thinking about it doesn't it. Treasured memories, full of childhood excitement, anticipation of what Father Christmas will bring, and merriment when playing with new toys. The smell of the Christmas tree on Christmas morning. A roaring fire while the snow falls outside.
It's also a time of great joy, with delicious food, fun, and quite simply, enjoyment.
And it's fair to say that Christmas has a rather large focus on food. Mince pie and mulled wine anyone?
But what happens when allergies are involved, particularly food allergies? How does it change things? And if it does, how on earth do you deal with it?
Certainly, since Callum (seen here with his Christmas tree...) was diagnosed with multiple food allergies, we have had to learn a new way of doing Christmas to make sure he didn't miss out in any way. After all, just because you have allergies doesn't mean you should miss out. Far from it!
So how is it for other allergic families?
But whatever about us, I wanted to find out what happens in other allergic households, seeing as around 1 in 5 children now have an allergy of some sort, and incredibly, 1-2% of adults too. So, I did a bit of research with some allergy parents and asked them a few simple questions.
I'd love to know how many of these can you relate to? And, how many have you already heard this December? I must confess to hearing almost all of them (not close friends and family I must add), and we're only mid-way through the month.
'just a little bit won't hurt will it?!'
'but it's Christmas….'
'I got gluten-free, that'll be alright won't it?'
'I've not got you pudding, how about some fruit?'
'wine doesn't really contain milk/egg, does it?'
'surely a day off will be ok?!'
Come on, be honest, how many of those were you nodding to? And can I also point out that fruit is NOT a pudding!! There are so many decent free from recipes for Christmas puddings out there, to not have any option is quite frankly lazy! Even the supermarkets have cottoned on to the fact that the free from market is pretty lucrative at this time of year. There are quite literally hundreds of products aimed at Christmas this year, probably more than any other year.
But, it can be so incredibly frustrating to hear people's responses because they just 'don't get it' when it comes to allergies.
Last year I wrote about my top tips which will help see you through the festive period, which you can read here.
Christmas isolation
But there's a whole other side to Christmas that many don't consider, and it's something that Callum said to me the other day that really got me thinking.
'Why am I different mummy, my friends get a different Christmas to me. I don't like being different.'
That single sentence almost broke my heart.
Now he's older, he's noticing when he's not doing or rather, eating, the same as everyone else. I try where possible to ensure that every meal at home is inclusive. We all will eat the same as him so that he doesn't feel any different. Many of our close friends and family are fantastic with his needs, and will do their upmost to include him and provide safe food and treats.
But he still notices at Christmas parties, or when we meet with friends and eat out. Sometimes it's just not possible for him to have the same, and I have to come up with some sort of safe alternative.
It means that he doesn't always get to have a proper 'meal' as there's nothing safe, and I have to cobble something together with what little options there are, and often it's bolstered with food I've brought with us for this very reason.
It's all very well covering the food element, but as I've been sharply reminded with Callum's comment, there's also a very real emotional element that often gets missed.
And it's not just children
Since hearing this, I've asked adults with allergies how they feel, and they've described this time of year primarily as isolating.
The very time of year when people should come together, feel loved, cherished and enjoy spending time with their closest friends and family. Instead, they can feel a burden and find it easier to stay at home and simply not go out.
Work Christmas parties become a thing of pure dread as they are not easily catered for, and yet they would still have to pay full price for a ticket to attend. Watching everyone else tucking into delicious food and drink while you sit there with a mediocre meal option would put me off and certainly stop any party mood!
I spend a lot of time with Callum, helping him to process what he goes through, building his confidence and reminding him how well he's doing, what he's achieved and more.
I will do my upmost to continue to ensure he's included in everything, and that all food is inclusive where possible.
I can't do much to change how others feel, but I really hope they start to see that things are slowly changing for the better with the FreeFrom Eating Out Awards and FreeFrom Food Awards making huge changes. People's perceptions of allergies are changing, and there is significantly more support and understanding today compared to even just three years ago.
Fingers crossed for even more improvement, understanding and making headway in 2018!
Here's wishing each and every one of you a wonderful, safe and reaction free Christmas and see you in the New Year!
December 2017
For more articles on the management and treatment of food allergy and intolerance