Trick or Treat? Have a safe Halloween
Nathalie is determined that multi allergic Callum and his sister will still be able to enjoy Halloween – but will remain safe – so she has conjured up the 'Switch Witch'!!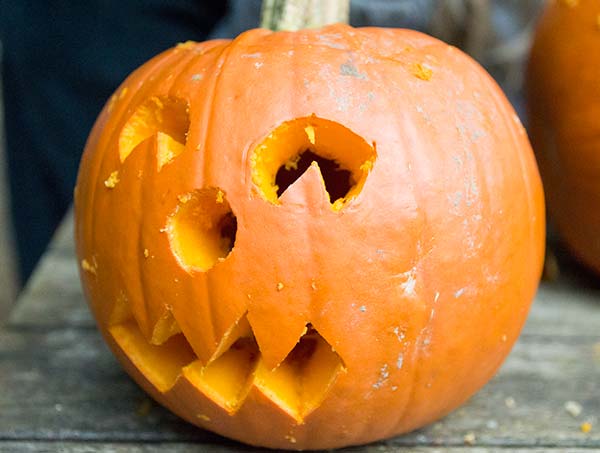 Where did the year go? My goodness, this year has been one of those blink and you miss it ones. Unbelievably, it's almost the end of the 1st half of term already, and with that comes Halloween.
Eponymous with children and grown-ups alike, it's all about the dressing up and also the gorging on sweets and treats. And there's no doubt it's a fun time of year. But what happens when allergies are involved? And how can you turn a potentially difficult and dangerous situation into one that everyone will enjoy, and more importantly, stay safe?

For me, it's all about inclusion and above all, positivity! Callum (who has 13 serous, life threatneitng food alelrgies) has to be able to lead as normal a childhood as possible – which includes being able to do the same things as his sister and friends!
So, come Halloween night, Callum and his big sister absolutely love to put on a costume and go around our village with friends.
But, I do need to be careful with costumes because many of them can set off a reaction and cause Callum's eczema to flare. I either ensure he's wearing cotton clothes underneath or pay out for more expensive options to ensure he'll stay comfortable when wearing them. We don't put any face paint on because the couple of occasions we've tried it have resulted in flare ups on his face which caused much discomfort. A mask is much easier and simpler to use, and quick to remove if uncomfortable.
We start the evening off with a big comforting allergy safe tea (such as dairy-free and gluten-free bangers, mash and onion gravy) that everyone joins in with, before getting dressed up. Then we put out the pumpkins that we've carved, including a teal coloured one that Callum paints every year to let everyone know that there are safe treats at our house for those with allergies.
Have you heard of the Teal project?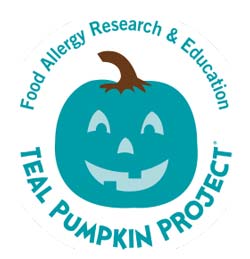 It started in the US a few years ago. Any child who suffers with allergies, paints their pumpkin a teal colour, so that other children know they can get non-food or allergy safe treats at their house, thus making it completely safe for them!
We've been doing this for a couple of years now, so everyone in the village knows about the significance of a teal pumpkin. On top of this, the majority of the village takes part in trick or treating, and are wonderful. They more often than not will have a safe treat for Callum to have. His little face, when he realises it's safe for him, is just a joy to watch!
Callum is really good, he knows to advise that he has allergies, and he recognises certain brands that are no good for him and will simply walk away after saying 'thank you but I can't have them. Have a happy Halloween'.
Over the years, I've taken a lot of time to explain to Callum and also to Chloe, the importance of not eating anything given to them during trick or treating, or in fact at any other time of the year, without check with us first as to whether they are safe or not! They are very good, and know that we've taught them this to keep Callum safe and well. It's become second nature to them now, and their friends also follow this routine to ensure that Callum stays safe and doesn't feel as if he's missing out.
The Switch Witch
We ask them both to leave their collection bags on the side in the kitchen when they get in, and their 'special' treat is that they can look through them the next morning, and choose 1 sweet to have with their breakfast. Why?
Because I have introduced someone called the 'Switch Witch', a special witch, who works in the same way as the Tooth Fairy – you never meet her, but you know she's keeping you safe!
Once they've gone to bed, I will go through the bags of loot that they've collected, and swap the things that aren't safe for Callum, with the ones that are. Chloe tends to do really well out of it, and gets a lot of chocolate!! For anything I'm unable to swap, I have a stash of safe sweets that I replace the unsafe ones with.
Both kids are none the wiser, Callum stays safe, both children are happy with their hoard, and I'm a mummy breathing easy, knowing my little dude hasn't missed out on the fun of Halloween and has stayed safe for another year!
So, my top tips for keeping safe at Halloween: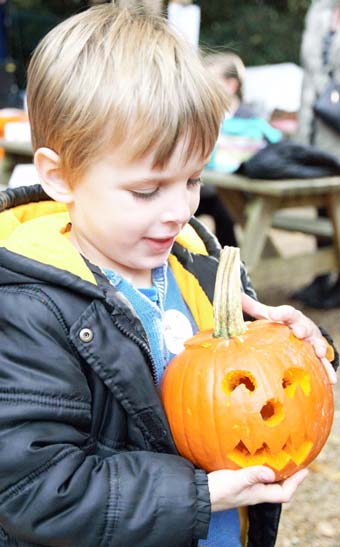 Paint a pumpkin teal to let everyone know that you have safe treats available
Forewarn your neighbourhood – more often than not they'll already be prepared and will have safe treats
Introduce the 'Switch Witch' and explain what they do!
Only allow treats to be eaten once you get home so that you can make sure they are safe – it's easy to slip up when trying to read ingredient labels in the dark!
Don't forget to read ALL labels – manufacturing methods can change at any time and what once was safe may not be in the future!
If you can't see ingredients, don't assume they are safe. Ditch and switch for a safe treat!
Always carry your medi bag with you, even when out trick or treating – you just never know when you might need it!
We'd love to hear of your safe tips and tricks! Have we missed any out that we should be considering?
We hope you have a wonderful, safe and happy Halloween!
October 2017
For more articles on the management and treatment of food allergy and intolerance