Two 14-year-olds from Ottawa, Jenna Devine-Ducharme and Zoey Phillips, have won a bronze medal at the Canada Wide Science Fair, and a 'Future Leaders in Science Award' for their aerobiology project linking pollen and allergy and making green spaces allergen friendly. Jenna tells us all about it.
Here they are (Jenna on the left...) receiving their future Leaders in Science Award from Senator Joseph Day in parliament.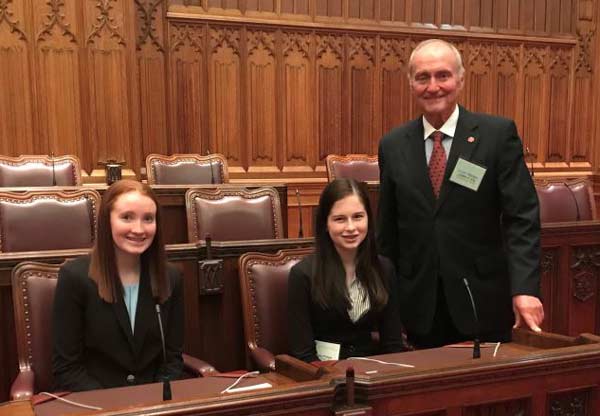 Zoey Phillips and I, are in grade nine and we decided to research 'pollen' and 'Aerobiology' for The Ottawa Regional Science Fair. A subject of interest resulting from personal suffering associated with allergies and asthma.
During our research we discovered a number of polices and references to pollen, air particulate matter, air pollution, climate change and the current allergy epidemic. We also discovered Mr. Tom Ogren's research, which became central to our hypothesis and scientific research.   
In our city, The Air Quality and Climate Change Management Plan, lists pollen as an air emission contaminant having major impacts on human health. Climate and temperature changes have been observed in Ottawa. The direct link between climate change and air quality is reinforced with scientific discoveries indicating increases in the production of pollen and warmer temperatures extend pollen seasons, which are a top cause of allergy symptoms within urban centers.
The Ontario Medical Association (just one Canadian province) estimates that health costs due to poor air quality are in the order of $1 billion per year.  That is over $65 million for The City of Ottawa alone. The most vulnerable populations are children and adults over 45 years of age. These two groups currently represent 55% of Ottawa's total population.   
Unfortunately, little to no attention has been placed on pollen emission when selecting trees and plants for cityscapes, parks, institutions, schools and hospitals in The City of Ottawa. Our Forestry department does not collect critical information including: sexual species data, impacts of pollen or a plants potential to cause allergic reactions to humans, when purchasing or planting.
With so much emphasis and education placed on allergies and sensitivities within our school walls, institutions and workplaces, it is imperative that our leaders begin listening and having discussions about making green spaces allergen friendly.  
In 2012, Mr. Thomas Ogren, a horticulturist expert, M. Agr.Sc and creator of OPALS, was commissioned to undertake The Canadian Urban Allergy Audit. The findings indicated a dominance and major imbalance of male trees making air quality worse for people who suffer from allergies and asthma. Over 94% of the trees in Ottawa are of the male species and this trend is nationwide.
Male trees are pollen emitters and rate high on the allergy scale. Environmental stressors cause male trees to express more pollen. It is important to note that   OPALSTM (a plant allergy scale, that measures the potential of a plant to cause allergic reactions in humans), has been adopted for use by The American Lung Association, The US Department of Agriculture Urban and Community Forest Service and California Public Health Department. The United Kingdom has also adopted the  OPALSTM allergy scale. It is time for Canada to Adopt  OPALSTM.
Our Aerobiology project was one of eleven projects selected from our entire region that will be advancing onto The Canada Wide Science Fair. Over 500,000 students competed from all across Canada, vying for one of the coveted 500 spots to participate against Canada's brightest minds. It is an honor for us to represent our community, city and country.  
I am also excited to tell you that our project has been awarded special honors by: The Horticulture Society of Ottawa, The IPIC- Intellectual Property Institute of Canada "Girls in Innovation and Creativity" and we also received "The Future Leader in Science Award" on Parliament Hill given by Senator Joseph Day. Letters of support for the research project have also been provided at a municipal and provincial level.         
It is very important that people listen to young voices like ours who are trying to educate our leaders. Citizens from around the world should advocate support for Mr.Tom Ogren's research and implementation of  OPALSTM . What could be more important than the air we breathe! 
Note Bene - update....
Jenna wrote this piece for us some weeks ago but we have just heard that their project won a bronze medal at the Science Fair – which is brilliant as they are still only 14! It also looks as though they might already have been offered some university scholarships. Congratulations!!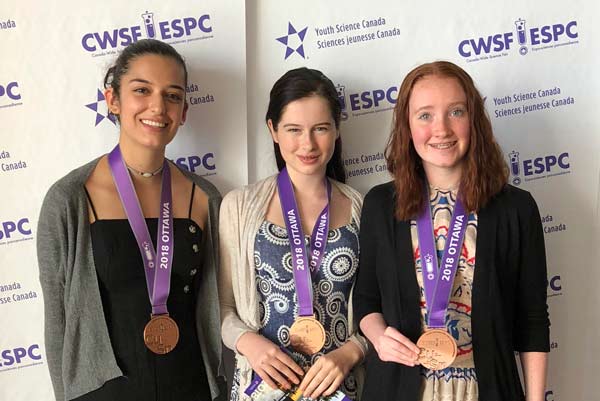 ---
You can find all of Tom Ogren's books on allergen-free gardening here on Amazon in the UK and here on Amazon in the US and number of video interviews with him and articles about his work here on the Foodsmatter site.
---