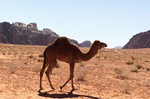 New section on the FoodsMatter site devoted to travel. General advice for food allergic and intolerant travellers and tales of eating and travelling from the West of Ireland to the Himalyas. Including the two articles below and many more.
---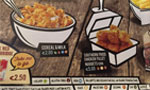 Following on from her guide to travelling with allergies (below), Catherine Rose checks out the airlines' 'freefrom' food offer.
---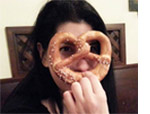 With the holiday season upon us, inveterate gluten-free traveller Catherine Rose gives her top five tips for safe but enjoyable travelling with allergies. Read on...
---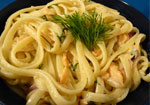 Summer holidays and the kids all at home – there's going to be a lot of pasta eaten. So here are three simple but ultra tasty freefrom pasta recipes.
Pancetta and Basil Pasta 
Gluten, lactose, milk, nut, peanut, sesame & wheat free; can be corn & soya free
Creamy Spinach Pasta
Gluten, lactose, milk, nut, peanut, sesame & wheat free; can be corn & soya free
Pasta With Smoked Salmon, Lemon and Dill
Gluten, lactose, milk, nightshade, nut, peanut, sesame & wheat free; can be corn & soya free
---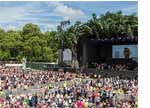 When What Allergy? Ruth was offered a free ticket to a concert, she though – fine, I'll take a 'freefrom' picnic. Would that it had been that simple! So, her top tips for going to concerts with allergies. Read on...
---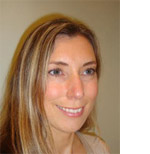 Families with seriously allergic children will not be surprised to hear that their 'quality of life' scores often rate below those of families whose children are diabetic. It is an area which has not had much attention in the past so it is good to see more research time being devoted to it. Researcher Kate Lawrence has found three recent studies, including one on 'food bullying' at school. See the new research page. Plus some US research suggesting that children with allergic conditions may be more likely to suffer from musculoskeletal conditions.
---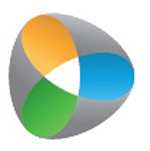 An excellent conference from the British Society for Ecological Medicine (BSEM) about the microbiome and its importance in automimmune conditions (coeliac disease, RA, diabetes, MS etc.) See in particular Professor Nicholson with his massive screening facilities (courtesy of the London Olympics!) and Professor Dinan's linkage of disturbed microbiota to mental health problems.
---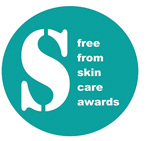 A lip balm from German skincare company, Benecos, was the overall winner at the FreeFrom Skincare Awards earlier this month.
Check in here for all the winners, here for where to buy them and here for a video of the whole presentation and here for a more detailed assessment of the entries and winners.
---
---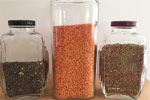 How many coeliacs just eat pulses without a thought? But why not? Pulses are 'safe' foods! But are they? Sue Cane discovered, to her horror, that the warnings that sometimes appear on packets of lentils and other pulses may not just be legal departments being over cautious...
---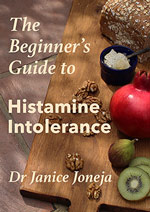 Dr Janice Joneja talks to editor Michelle Berriedale-Johnson about her new book. A distillation of her years of research and experience in a really easy-to-understand format – complete with suggestions for a low histamine diet.
'For the first time in this long, exhausting, lonely journey, I finally feel like I've been pointed in the right direction to find answers and wellness!'
Available as an e-book here on Amazon UK, here on Amazon US.
---